How to Keep Your Shop Cool
The following content is syndicated content.
Woodworking's not much fun when the space you're working in feels more like an oven than a shop. Luckily, there are many ways to make a shop cooler and more comfortable.
Although we're capable of traveling to the far, frozen reaches of outer space as well as trekking across scorching deserts, we humans actually have a relatively narrow range of temperatures and humidity levels at which we're truly comfortable. And it's important to feel comfortable when you're making sawdust: you need to keep your concentration when using power tools.
Keeping the mercury and moisture level down in the workshop not only makes woodworking a more pleas- ant pursuit, but it also helps prevent problems like tool rusting and lumber warping and checking. Excessive heat can also ruin adhesives and finishing supplies, as well as cause problems when gluing or applying finishes.
I recently delved into methods for keeping a shop toasty warm (see my article "Heating a Woodshop" in the April 2014 issue). Now it's time to explore some strategies for making your shop a cool place to work when temperatures climb. There are basically three ways to make your shop a cooler place: 1. Keep the heat from coming in. 2. Get the hot air out and replace it with cooler air. 3. Condition the air inside the shop to make it cooler and drier. Fortunately, there's a lot more you can do to put high temperatures in check beyond simply switching on a power- hungry air conditioner.
Shade Trees, Vines, Etc.
One way to help keep your shop space cool is to prevent heat from getting into it in the first place. Having good insulation (which we'll
… Continue reading here.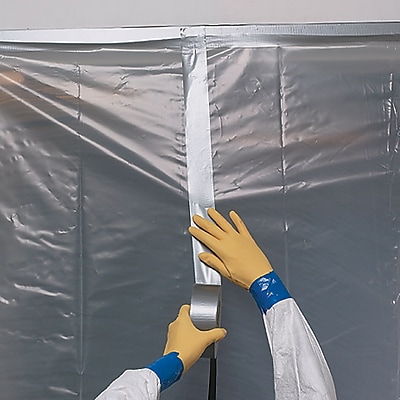 Silver, 55 oz/in (adhesion to steel), 25 lbs./in (tensile strength), 9 mil thickness, High tack adhesive for good quick stick to many surfaces, Adhesive type: Rubber, Elongation: 17 percent, Diameter: 16.06, Material: Polyethylene, Industry use: Automotive, construction, furniture, general industrial, metal working, military and government, specialty vehicle, transportation, woodworking, Composed of a waterproof polyethylene film over cloth scrim backing with a rubber adhesive used for demanding duct tape applications, Conformable and moisture resistant backing that tears easily by hand, Sealing, holding, bundling, reinforcing, identifying, tabbing, wrapping, splicing and protecting, Tears easily straight across and down without curling, Writable surface, Tack-free edges, Operting temperature: 200 deg F, Standards: UL 723
List Price:
Price:
Permalink to 'How to Keep Your Shop Cool'